What started out as a fun family activity (with friends) turned into a learning adventure that not too surprisingly ties into our Young Naturalists Guide to Florida study.
Pufferfish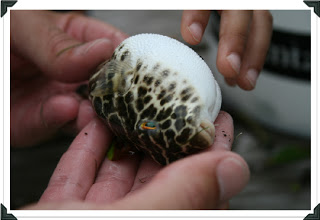 Most pufferfish are found in sub-tropical and tropical marine waters (including coral reefs) in the Atlantic, Pacific, and Indian Oceans. Puffer fish may also live in brackish and fresh water. Puffer fish are carnivores who eat sponges, sea urchins, corals and small crustaceans. They crush and grind their prey with their heavy, fused teeth. Puffer fish range in size from just a few inches to almost 2 feet long. A few species have spines on their body, and may be referred to as porcupine fish, but many do not. Their skin is very elastic. Many parts of their body is poisonous and contains tetrodoxin. Even so, they are a delicacy in Japan and many skilled chefs prepare pufferfish (called fugu) as a delicacy.
Enchanted Learning download on puffer fish.
Banded Rockfish
(Sebastes Serriceps)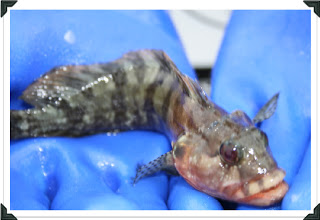 There are over 100 species that belong to the Rockfish family but only one exists in the Atlantic Ocean. Rockfish are viviparous, meaning they give birth to live-young and are slow growing, taking many years to mature. All rockfish have venemous spines on their dorsal fins which they use for protection.
Guide to Rockfish and additional information on Rockfish
Interesting Teaching Fact:
The plural of one type of fish is FISH. As in, "We saw a school of fish"
The plural of different types of fish is FISHES. As in, "There are many types of fishes in the sea."