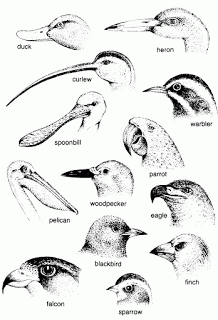 Our nature study theme for the month is Birds. This year we are continuing to use The Young Naturalists Guide to Florida for our science study (which also includes Florida history and geography).
As part of our study we participated in a hands-on presentation on Birds at a local nature center. Our focus was on their beaks and feet.
We had a terrific instructor who really made our study come alive. One hands-on activity involved a simple bird feather. She used it to illustrate preening and flying. By comparing it to a peacock tail feather the children were able to see why some feathers are not suitable for flying and why preening is so important. If you want to try this at home with your own children simply take a feather and gently separate the feathers in a downward motion. Then, using 2 fingers as a beak—"preen" them in an upwards motion. Very cool!

We also had an opportunity to look at various bird feet and talons. This was an opportunity to discuss the fact that all birds have 4 toes, but that their feet can be very different from species to species and can give clues as to what their habitats are like as well as their primary food source.

Online Resources:
Bird beaks & feet
Bird beaks & feet PDF worksheet
Create-a-bird cut and paste activity