Paynes Prairie is biologically, geologically, and historically unique. This
park became Florida´s first state preserve in 1971 and is now designated as a
National Natural Landmark. Noted artist and naturalist William Bartram called it
the great Alachua Savannah when he wrote about his visit to the prairie in 1774.
Florida State Parks website

We started our visit to Payne's Prairie at the Visitor's Center. Here you can watch a short informative video on the Prairie and explore the exhibits, including a Touch Table.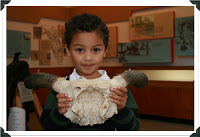 From the Visitor's Center it was a short walk on a paved path to the 50-foot observation tower to take in the panoramic views. In the distance we saw 3 wild horses and took in the vast prairie.

From there we drove to the La Chua Trail where there is an observation platform at Alchua Lake that we were told was catching sight of the wild Bison today—a truly rare and special occasion. While walking the 1 1/4 miles to the observation deck we passed quite a few alligators, a large flock of Sandhill Cranes and 2 endangered Whooping Birds (male and female). I was very proud of the boys (particularly Bear) for doing this walk as it was not only cool and windy, but it had already been a long day. We were determined to see the Bison though…and by we, I mean G-man and me! Pumpkin and Cutie Pie skipped this trip and lets just say that Bear wasn't that thrilled on the way out.
G-man taking in the alligator along the trail.
When we finally made it to the observation platform the boys had an opportunity to use their binoculars. I think we are ready for an upgrade in our binoculars too—still they did help us realize that what we thought was one buffalo in the distance was really two. I also had an opportunity to show the boys how a few of the buffalo stand "guard" while the others are grazing. It was something I learned on safari on Africa and it was neat to have an opportunity to share this information with the boys.
Majestic Oaks were everywhere along with a few trees we couldn't identify on the trail. We plan on looking for them in our field guide sometime during or immediately after the trip. For now we are calling it the barnacle tree.

On the walk back we discussed landmarks and how and why people use them. I was surprised that the boys had several landmarks already in their mind to help them know when we were getting close to the exit—-I guess they have their father's sense of direction.