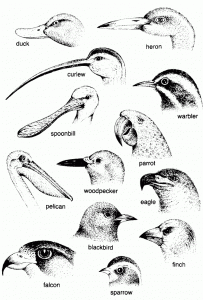 Lesson Plans
Eduplace.com Bird Beak Lab
Ranger Rick Naturescope: Birds, Birds, Birds lesson plan
Online Resources:
Backyard Nature Bird Beaks Page
Teacher's Domain Bird Beak Gallery
Bone Clones Osteological Reproductions
Activities:
1.) Visit Peekabeak to learn how birds use their beaks like a tool.
2.) Visit Natural History Museum's Bills and Beak page. Print out and include in lapbook.
3.) Print out the Bird Beak Record Sheet and create a lab activity.
4.) Print out build-a-bird-kit and include in notebook
5.) View Teacher's Domain Bird Beak Gallery with your students and have them guess what type of food the bird eats based on their beak.