As part of our study based on the Young Naturalist's Guide to Florida we took a field trip to Lake Okeechobee. Okeechobee means "big water" in Seminole and it truly is big water– spanning 730 square miles!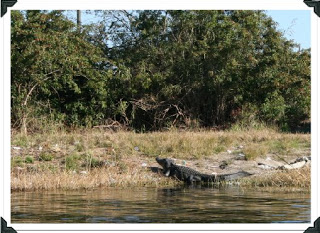 Our half day fishing trip allowed the children to experience both the wildlife and fishing on Lake Okeechobee. Needless to say this was much better than turning to page 10 in our books.
Bear with his first catch of the day
Due to the cold fronts we have had moving through Florida recently the water was unusually cool and the fish weren't really biting. Even so, we had a great time and the kids managed to catch Bluegill, Gar Fish, and Sicklet.
I believe it is important to allow children opportunities to enjoy our natural resources. By doing so I think they will have a stronger appreciation for it, and a willingness to participate in conservation efforts. This is going to be critical for our young people and is one of the reasons why I focus on nature/naturalism in our Science studies.
We look forward to visiting Lake Okeechobee often and perhaps taking up fishing as a family hobby/activity.
Pumpkin has a need for speed!