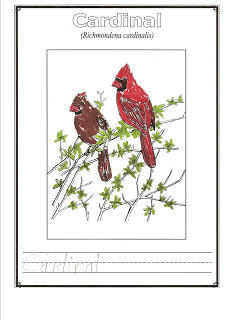 Lesson Plan:
Read chapter 27: "A new friend and an old one" from

The Burgess bird book for children

.
Read & discuss pages 127-130 in

Handbook of Nature Study

Print out photos of cardinals (male and female) and talk about their characteristics
Using photo as a guide color the notebook page on Cardinals to resemble the photo.
Practice writing Cardinal in upper and lower case.
Cut out photo of cardinal and glue to the back of notebooking page. Add to Nature Study notebook.
Books:
Handbook of Nature Study
Burgess bird book for children
The best nest
Resources:
Photo of male cardinal
Photo of female cardinal
Notebooking Pages: North American Birds