Today we went on a nature walk with a group of other homeschoolers at Grassy Waters Preserve. It's a gorgeous preserve with a boardwalk trail. While walking along with a naturalist guide, we saw a red shouldered hawk's nest. We were told that if we came back in May (which we plan to do) we will be able to watch them as they stand on the edge of the nest and practice flying.


The preserve is part of the Everglades and is also home to many beautiful Cypress trees.
Thought not as dense as those we saw in the Florida panhandle, they are equally beautiful.

Scientists and naturalists still cannot figure out the purpose of the "cypress knees" (seen below) that each tree produces. They produce multiple knees yet seemingly do not need them to survive.

The real excitement came when I spotted a 7 foot female alligator under the boardwalk we were walking on. I actually saw her tail peeking out from the boardwalk first. I think I earned a few cool mom points from G-man for my gator spotting abilities! I guess there's nothing like walking along Paynes Prairie with your three children just before dusk to get your gator tracking senses activated!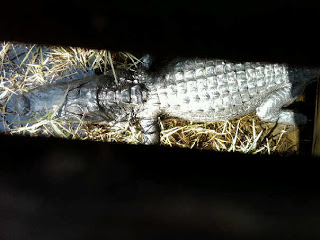 The above photos were all taken with my new Blackberry phone as I forgot my camera.
Not bad for a camera phone!