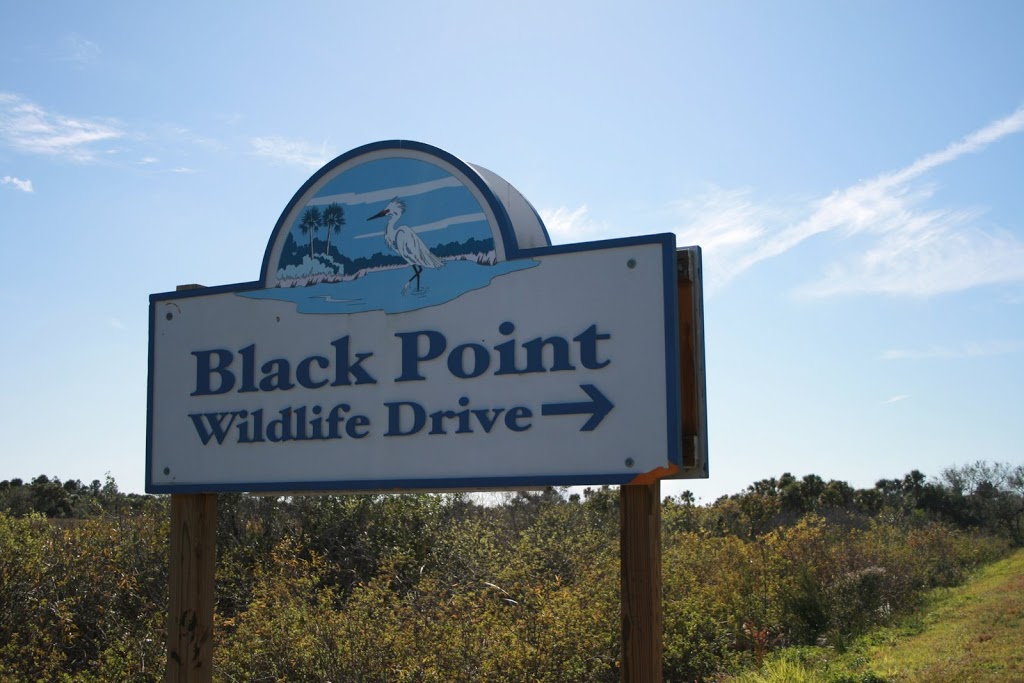 Blackpoint Wildlife Drive is a 7-mile auto tour through one of the best wildlife viewing areas within Merritt Island National Widlife Refuge.
It was created in 1963 when NASA created Kennedy Space Center. The refuge provides a buffer for space operations while also protecting key habitat such as wetland, hardwood hammock, and scrub ecosystems. Black Point Wildlife Drive and Cruikshank trail (named after wildlife photographer Allan D. Ruikshank) provide excellent viewing opportunities for migratory birds. Some of which are federally listed. There are twelve stops along the self guided tour (don't forget to pick up your tour brochure before beginning). The park is open year round from sunup to sundown, but is subject to closure during NASA shuttle launches.

Blackpoint Wildlife Drive is a major destination for birders from throughout the world and is part of the Great Florida Birding Trail. Over 320 species have been documented so no matter what season you visit, you are likely to see a variety of birds. The peak season for birding is the cooler months between October and April with optimum conditions occurring from December to February. During these periods, hundreds of thousands of migratory birds use the refuge as a temporary rest stop or spend the entire winter season loafing in refuge impoundments which creates excellent birding opportunities. During warmer months, after the migratory birds have returned to their northern breeding grounds, resident wading birds, shore birds, songbirds and raptors forage in refuge marshes, open waters, and forested uplands to feed their young.

Environmental Educational opportunties are available at the center for grades K-9 making it a wonderful field trip destination.
Tips:
Bring field guides and binoculars to help you identify what you are seeing. If you do not have these items you may borrow them through the loaner optics program that is available at the visitor's center.
The park is most active in the early morning or late afternoon, plan your visit around these times for optimal viewing.
Be on the look out for volunteers or guides who frequent the drive to assist visitors. You will benefit from talking to these knowledgeable and friendly guides.
There are many other wildlife recreation opportunities available at Merritt Island National Wildlife Refuge in addition to Blackpoint Drive including: manatee observation deck, fishing and hunting and canoeing and kyaking. Don't forget to stop off at the Visitor information center which includes interpretive exhibits, a educational video on the refuge , bookstore and 1/4 mile boardwalk.
Considerations:
Buses or Vehicles over 29 feet are not permitted on the drive.
There is no fishing, crabbing or boat launching permitted off the drive.
Related Resources:
Merritt Island Wildlife Association
Nature Photography from within the Refuge
Canaveral National Seashore
Great Florida Birding Trail Guides
Florida Wildlife Commission Publication request form.
Birdwatching Basics
The Visitors Center, located 5 miles east of US1 in Titusville on SR402, is open from 8am to 4:30P Monday-Friday and 9A-5P on the weekends. The center is closed Sundays from April-October. Please call 321.861.0667 for more information.