You may have thought that you have to be an expert to identify birds, but birding can be enjoyed by anyone, year-round in Florida, wherever you are.
The Young Naturalist's Guide to Florida, page 95

Birdwatchers are generally more observant than the average person. How else to explain the fact that a birder can identify a bird after, in some cases, only a brief look? In order for a birdwatcher to do so, they must be able to observe color patterns, call notes, overall shape, how it moves or flies, the shape of its wings and even the shape of the bird's bills.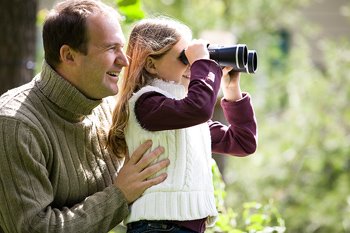 Introducing young children to birdwatching not only exposes them to nature but encourages them to develop their observation skills as well as patience and concentration. Did you know that Florida has the third greatest number of different bird species of any state in the nation? As a Florida resident or educator you have a unique opportunity to expose your students to a variety of local and migratory birds using only basic equipment and bird identification skills .

Suggested Activities:

Go on a nature walk and see how many types of birds you can identify.
Learn more about the local birds you've seen and create pages on them in your notebook.
Participate in the Great Backyard Bird count (see below)
Can you name all of the birds pictured in chapter 19 of your book?
Create a "life list" with a checklist of all the birds you have seen in your lifetime. It can be detailed to include date, time, and weather or simple, only listing the birds you have seen. If you want to keep it simple, consider adding gold stars in your field guide to identify the birds you have seen.
Build a bird feeder and check on it regularly for visitors. Consider joining Project Feederwatch.
Become a member of the National Audobon Society
Practice using your field guide. Do you know how it is arranged and grouped? Field Guides are grouped and arranged similarly to a dictionary or encyclopedia. Once you've determined how your guide is arranged or grouped use sticky notes to divide the sections.
Suggested Reading:
The Burgess Bird Book for children by Thornton W. Burgess
Handbook of Nature Study by Anna Botsford Comstock
Additional online resources:
Whatbird? online field guide
Cornell lab of ornithology
Great backyard bird count
Project Feeder watch
Florida Birding Trail
National Audubon Society Kids' Page
Birdwatching Basics from the Florida Wildlife Commission