Aproximately 1 in 500 people who visit The Florida Caverns are able to tour the caverns at night, by flashlight. It is the only Florida state park to offer cave tours to the public. Our flashlight tour with Ranger Billy Bailey lasted approximately 45 minutes and boy did it go fast! Though it was our second time in a cavern it was our first time viewing it by flash light. The kids enjoyed feeling like explorers and I have to admit, so did I.
With outside temperatures touching 20 degrees we felt toasty warm in the 63 degree humid cavern. It was truly comfortable and I could have easily stayed inside for several hours exploring. It was hard to get the kids to leave! I had to keep an extra close eye on the boys as they had a tendency to wander off and
attempt
to go down any opening they could find—and there were several!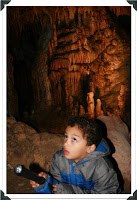 According to Ranger Billy, "It's all fun and games until you get lost in the cave!" Thankfully, he had a good sense of humor, was extremely knowledgeable and no one was lost!
In addition to reviewing the names of formations we learned on our last cavern tour, we did learn a few more interesting terms such as cave bacon (Draperies with brown ribbons running through like bacon), and Spalunker (cave explorer), though I'm not sure about the spelling on that one!
Stalagmites are formations that begin from the ground. You can remember this by thinking that you "might" trip over it.

Stalactites are tightly formed and grow from the ceiling down. The ones below are part of a formation nicknamed the "sweet potato patch."
Draperies (sometimes called Cave Bacon)

Columns form with stalactites and stalagmites meet.

Rimmed Pools are formations that form little pools of water. They are beautiful and I have no idea what happened to the photos I took of them!

Soda Straws are one of our favorite formations. Can you tell why they are named that?
Towards the end of the tour there is a formation that you are allowed to touch. Generally you are not allowed to touch formations because the oils on your hands turn causes damage to the formation and stops it from growing. Since this was our 2nd time in a cave the kids were very good about not touching anything they saw. However, they thoroughly enjoyed touching the one column at the end of our tour that is reserved for the curious.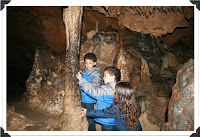 In addition to the formations we were able to see Pipistrelle bats ( one of the few bats to prefer to roost alone and not in a colony), a leech and several cave crickets. Additional information on Florida bats is available here.
After the cave tour we were able to spend a little time exploring the Visitor's Center Museum. In addition to the displays there is an educational video, although we did not have time to see it. There was a lot to do at this park and if we are ever lucky enough to venture back into the panhandle for an extended visit, this park will be at the top of our list!
Field Trip Tips:
Tours are available daily through the Ranger Station.
Flashlight tours must be reserved in advanced and are for groups of 10 or more.
Try to spend at least 2 days here if you can. There is a lot to do! If you can only do one thing then do the cave tour—preferably at night!