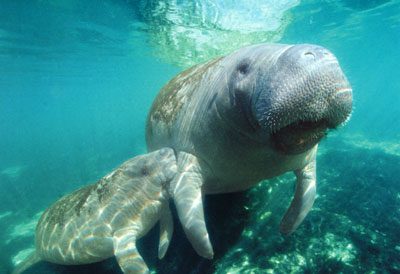 "In 1975, Florida chose the West Indian Manatee to be the state's Marine Mammal."


The Young Naturalist's Guide to Florida

; page 5
Manatees are mammals whose body structure has adapted to life in the water. Like all mammals, they have lungs and must surface to breathe every four minutes. Manatees spend about 5 hours per day grazing on aquatic plants and can eat up to 150 pounds of food per day. Adults weigh as much as a ton and are 10-12 feet long.
Manatees give birth to one calf at a time and their pregnancy lasts 13 months. The calf will nurse for approximately two years from the milk glands located just under the flippers.
This gentle giant has no natural enemies except people and has no defense except to flee—slowly. Even in the wild sharks do not bother manatees!
Manatees are considered endangered because their numbers have steadily declined due to loss of habitat, water pollution and boating accidents.
Lesson Plan:
Read pages 5 & 37 in the

The Young Naturalist's Guide to Florida

Using photographs from selected books on Manatees have student identify the following body parts on a manatee: Eyes, Nostrils, Flippers, Finger Nails, Tails, Whiskers, and Mouth
Using a piece of butcher paper roll out 10 feet of paper and draw a large manatee on it. Have children sit or lay on the paper to illustrate how large a full grown manatee is.
Download the Manatee Puppet Craft, color and assemble the puppet OR create a 3D Manatee habitat craft
Consider adopting a manatee at the special discounted rate of $20 through the club by identifying yourself as a school group.
Watch this Manatee video online and the one below.
Discussion Topics:
Who or what is the manatees only natural enemy?
What do manatees need to survive?
What can we do to protect manatees?
Suggested Reading:
Manatees by Kathy Feeney
Florida Manatee by Rod Theodorou
Manatees: Peaceful Plant Eaters by Adele Richardson
Manatees by Jody Sullivan Rake
Sam the Sea Cow by Francine Jacobs (illustrated story)
Saving Manatees by Stephen R. Swinburne (older students)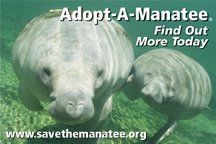 Online Resources:
Defenders of Wildlife Florida Manatee Page
Save the Manatee Club
Materials to Download:
Manatee Coloring & Activity Book
Manatees an Educators Guide
Manatee Fact Sheet
Enchanted Learning Manatee Notebooking pages
National Geographic Manatee printable
Manatee lapbook from Homeschool Share
Manatee Coloring page
Field Trip Ideas:
1.) Visit a Spring or Rehabilitation Center to view Manatees. When viewing Manatees be sure to follow the federal guidelines for watching manatees. A list of suggested field trip destinations is below.
2.) Volunteer at an event to Save the Manatees.
Homosassa Springs State Wildlife Park – From Wildwood, near the convergence of the Florida Turnpike and I-75, take Highway 44 west to 490 (West Homosassa Trail) southwest to Highway 19, then south to the park; call 352-628-5343
Crystal River National Wildlife Refuge–

Blue Spring State Park– Take exit 114 off Interstate 4 and follow the signs. Go south on 17/92 to Orange City, about 2.5 miles. Make a right onto West French Avenue.
Manatee Springs State Park– Manatee Springs State Park is located at the end of S.R. 320, off U.S. 98, six miles west of Chiefland.
Chassahowitzka National Wildlife Refuge – One entrance is south of Homosassa Springs State Wildlife Park on Highway 19; call 352-563-2088
Fun 2 Dive – with Captain Joseph Detrick; call 888-588-DIVE
Bird's Underwater Manatee Tours and Dive Center – As with Homosassa Springs, head west on Highway 44 to Crystal River; call 352-563-2763