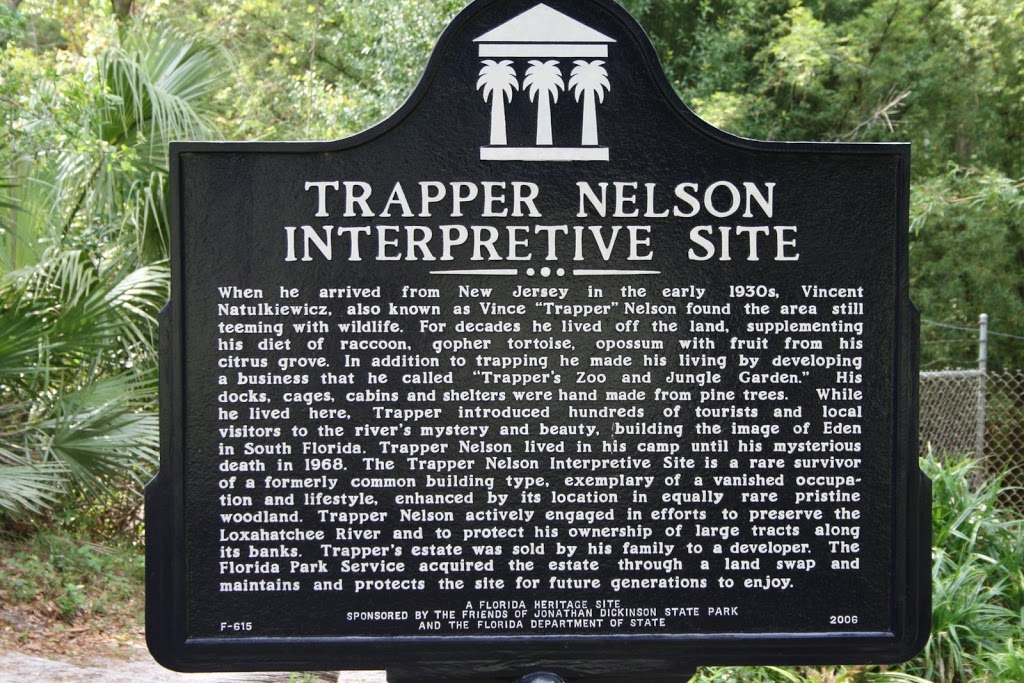 The Loxahatchee River is one of the few wild and natural rivers remaining in southeast Florida. This beautiful river winds its way through both freshwater and saltwater ecosystems making it one of the few rivers in the United States that can boast such a diversity of plant and animal life.
It is here on the Loxahatchee River that you will find Trapper Nelson's campground. As a child Trapper told his parents that when he grew up he was going to find a place out in the woods where he could live off the land, away from everyone else…and he did in 1936. Although he was a loaner for the most part, for 38 years he became a local legend known as the "Wildman of the Loxahatchee" because he marketed himself to tourists as a modern day Tarzan who wrestled alligators (including a 3-legged one- named Stumpy that he kept as a pet), and trapped Florida wildlife that he sold in town or by mail order.
When you arrive at the Trapper Nelson Interpretive Site you will be greeted by a Ranger who will give your group a personal tour of Trapper Nelson's "zoo", guest cabin, woodpiles, Personal cabin, Chickee Shelter, and water tower. Everything is an original with a few things being restored as needed using authentic materials and tools.
Plants you will see:
Wild almond
Bamboo
Citrus
Mangoes
Sausage Tree
Surinam Cherry
Guava
Pineapple
Screwpine
Java Plum
Online Resources:
Trapper Nelson from Jupiter Kids History website.
If you are still curious about this local legend, you can read more about Trapper Nelson in, Life and Death on the Loxahatchee by James Snyder.
The site is open Monday, Thursday, Friday, Saturday & Sunday from 9AM-5PM. River tours are offered five days a week aboard the 25-passenger Loxahatchee Queen II. Please call 561.746.1466 for tour times and information.
Have you visited the Trapper Nelson Interpretive Site? If so, share your experiences with us in the comments or by linking your blog post using Mr. Linky below.