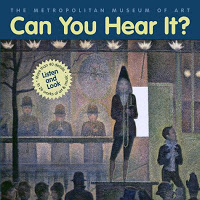 The Metropolitan Museum of Art has a book and CD called,
"Can you hear it?"
Using 13 famous paintings and accompanied music from both American and European orchestras, children are
introduced
to fine art and music.
We recently added this to our curriculum. We are using it along with How to use child-size masterpieces for art appreciation and it is considered a "group" class in our homeschool—meaning I teach this program with the 3 oldest children together.

A few of our favorites are:
Ocean Life
, by Christian Schussele
Prince riding an elephant
by Khem Karan
The carnival of the animals: The Aquarium by Camille Saint-Saens
The nutcracker: Dance of the Sugar Plum Fairy by Pyotr Illich Tchaikovsky