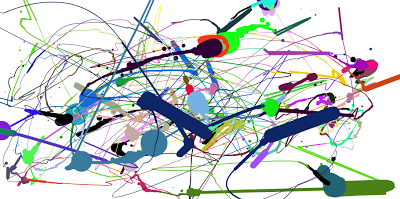 Today we began our artist study on the American artist Jackson Pollock.
We began by watching a video about Jackson Pollock where we learned that:
Pollock preferred to work on the floor so that he could move around his painting and become a part of it.
Instead of using traditional paint brushes, Pollock preferred sticks, trowels or knives and sometimes added a mixture of sand, broken glass or other foreign matter to his paint.
"Pollock's name is also associated with the introduction of the All-over style of painting which avoids any points of emphasis or identifiable parts within the whole canvas and therefore abandons the traditional idea of composition in terms of relations among parts. The design of his painting had no relation to the shape or size of the canvas — indeed in the finished work the canvas was sometimes docked or trimmed to suit the image. All these characteristics were important for the new American painting which matured in the late 1940s and early 1950s. "
excerpt from Pollock Biography
Through iLearn Technology I learned about the Jackson Pollock whiteboard which was a great way to let the children try their hand at creating their own Pollock master piece, without the mess!