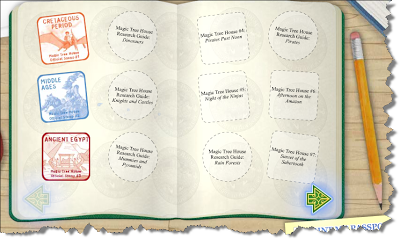 We've started on the Magic Tree House series and the boys are really enjoying it. The first thing we did was pick-up a Passport to Adventure at our local bookstore. The Passport takes them through Books 1-43 as well as the corresponding Research Guides. Then, after they finish a book, they go online and answer the questions. If they answer them correctly they earn a passport stamp which we print out and they glue into their passport. If they answer incorrectly they have to go back through the book until they figure out the correct answer on their own. You must get ALL of the questions correct to earn a stamp!
We are really have a lot of fun with this and expect to be finished in 43 days.
That's right—the boys are reading one book per day!
This is a fantastic series and I really enjoy the research guides as well. If you haven't taught with the Magic Treehouse series I highly recommend it.
Teacher Resources
Mission Rewards
Books & Resources:
Magic Treehouse boxed set (1-28)
Teaching with Favorite Magic Treehouse Books