The
Bailey-Matthews Shell Museum
is located in Sanibel Island, Florida. It is a very child-friendly museum and a wonderful fieldtrip if you are interested in learning about shells and seeing some amazing shells you may not easily find on your own.
The
Great Hall of Shells
includes more than 30-exhibits telling the story of mollusks from around the world.  The exhibits are devoted to shells in art and history, shell habitats, rare specimens, fossil shells, and common Southwest Florida shells.
When we entered the museum the children were immediately welcomed with a big smile and  sent off on a scavenger hunt through the exhibit!  At the end they were given some very neat prizes (its a surprise) and allowed to select a special shell from a basket.
The shells were incredible. One child selected a fossil shell and Cutie Pie (age 3) immediately grabbed a shell and said, "Look Mommy! A moon shell!"  and of course, she was right.  Further proving how much more is learned and retained on a field trip through hands-on learning.
The Children's Learning lab was also popular with my 3 and under crowd.  There were a lot of things to look at and touch.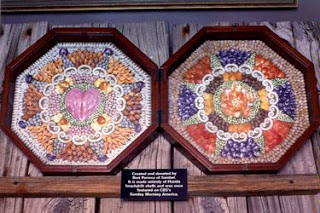 One of our favorite exhibits was seeing the Sailor's Valentines on display.
When visiting don't forget to ask for your FREE Seashells of SouthWest Florida handout.  If you laminate it, it would be a great resource to take to the beach with you on your next shell adventure!
Online guide to SW Florida Shells
Teaching Resources:
Please request the School Shell Collection Kit ($20) and optional Shell-related videos ($49.95).  Make checks payable to The Bailey-Matthews Shell Museum.  Requests must be made in writing: Bailey-Matthews Shell Museum: PO Box 1580, Sanibel, Florida 33957