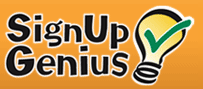 Sign-Up Genius may be a co-op leader or Teacher's new best online friend. This FREE online resource allows you to create custom PUBLIC or PRIVATE sign-up forms for a variety of uses using simple wizards. You can also preset reminders and monitor the sign-up progress online.
Once you create your sign-up sheet you can share the custom URL or invite people to send invitations to view by email.
Planning a field trip? Students and Chaperones can sign up on one form.
Hosting a holiday party or gift exchange? You can create a customized form to track guests, food or gift exchanges
Other ideas for using Sign Up Genius include:
Group/Club Volunteer duty sign up
Used Curriculum Sale sign up
Special event/Meeting Sign up
Meeting Sign-up (you can set up recurring events)