This post is part of the iHomeschool Network series, Birthday Lessons in August, where we share fun and original unit study ideas on fascinating people who were born in the month of August.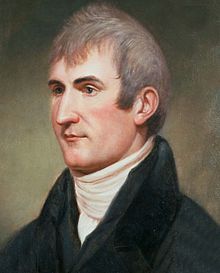 Meriweather Lewis was the Official Leader of the Lewis & Clark Expedition and has been referenced as being the "greatest pathfinder this country has ever known."  Lewis helped change the face of the United States by exploring The American West, which was previously uncharted terriority. His work  advanced scientific knowledge through his numerous discoveries of  unknown plants and animals.  Because of Meriweather Lewis many others were inspired to follow in his footsteps.
Timeline:
Born August 18, 1774 in Virginia
1794 Served in the Army and was neighbors with Thomas Jefferson
March 6, 1801 Meriweather Lewis is asked by Thomas Jefferson to become his private secretary.
April 1803 President Jefferson asks Lewis to be the Commander of the Expedition, known as the Corps of Discovery,  and to  gather information about the plants, animals, and people of the region recently purchased from the French. Lewis asks  old friend William Clark to join him as co-commander of the expedition.
July 4, 1803 Public Announcement of the Louisiana Purchase
May 1804 The Corps of Discovery begins their expedition and to lead an expedition into the lands west of the Mississippi.
October 1805 reach the Columbia River
The Corps of Discovery successfully reaches the Pacific Ocean in November of 1805
August 11, 1806 Lewis is accidentally shot by a member of his own party on the return home
September 23, 1806 Lewis and Clarke end their journey in St. Louis after 2 years, 4 months and 10 days.
In 1808 he was appointed Governor of the Louisiana Territory by  Thomas Jefferson.  During his brief term in office he proved to be a poor Governor who failed to keep his superiors in Washington appraised of his policies or plans.
Lewis set out for the nation's capital in September 1809 to answer complaints about his actions as governor.  It was on this trip that he died a violent and mysterious death at a wayside inn called Grinder's Stand near Nashville, Tennessee . Jefferson believed he committed suicide, however his family maintained that he was murdered.  The truth has yet to be discovered or proven.
Lesson Plans/Activity Guide:
The Lewis & Clark Expedition Activity Guide (Grades 3-5)
Notebooking pages:
Meriweather Lewis Notebooking page
Lapbooking pages
Books & Videos:
Websites:
Lewis & Clark's Historic Trail
National Geographic's Lewis & Clark Expedition
Scholastic's Lewis & Clark Expedition page
Sierra Club: In the footsteps of Lewis & Clark
Videos about Meriweather Lewis on C-Span
Visit the iHomeschool Network's Birthday Lessons in August for more lesson plan ideas for the Month of August.