T
his year we discovered,
A Child's Garden of Verses
by Robert Louis Stevenson and I was pleasantly surprised to learn recently that Dover has
A child's garden of verses coloring book
available.
by Bear
The kids enjoy coloring the illustrations while I read the poems. It is never too early to expose children to good poetry that goes beyond Mother Goose Nursery Rhymes.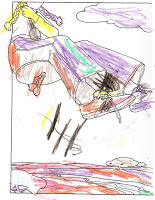 By Pumpkin
Other favorite Poetry Collections in our home library include:
Sing A Song Of Popcorn: Every Child's Book Of Poems

Where the Sidewalk Ends 30th Anniversary Edition: Poems and Drawings

In Aunt Giraffe's Green Garden