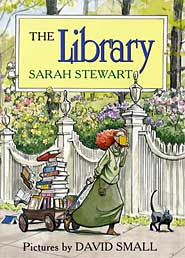 Elizabeth Brown
entered the world
dropping straight down from the sky.

Elizabeth Brown
entered the world
skinny, near-sighted and shy.

Shy didn't like to play with dolls
She didn't like to skate
She learned to read quite early
and at an incredible rate.
The Library by Sarah Stewart is our latest favorite read aloud. I particularly like the rhyming text but am equally drawn to the wonderful illustrations. We were sad that we were unable to find an author's website or video interview of Sarah Stewart or her husband, illustrator David Small. We did learn that Sarah Stewart and illustrator David Small are married and their first book together was The Money Tree. It is on our book list.
Other library themed favorites include:
Library Lil by Suzanne Williams
Library Lion by Michelle Knudson
Library Mouse by Daniel Kirk