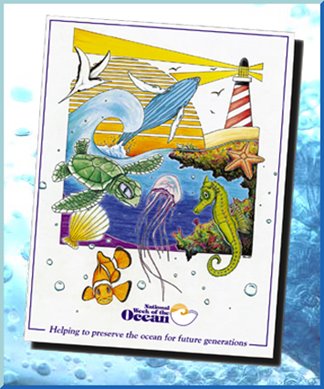 Did you know that
April 5-11th
is
National Week of the Ocean
?
The National Week of the Ocean is sponsored by Fort Lauderdale-based National Week of the Ocean, Inc., a group dedicated to helping students learn to understand, protect, and use the ocean wisely. Although people have mapped the entire surface of the moon, barely 5% of the ocean's floor has been explored. The National Week of the Ocean, directed by some of the U.S.'s most eminent ocean scientists, has set the goal of building interest and support in ocean research. In celebration and support of National Week of the Ocean, try to incorporate Ocean study into your homeschool or Family Fun Time this week.
Ideas for celebrating:
Visit your local library and check-out fiction and non-fiction books about the ocean.
Spend a day at the beach.
Learn about sea animals online, or at your local aquarium or Marinelife Center
"Ocean Odyssey—Exploring and Caring for the Ocean" will be this year's theme for National Week of the Ocean (NWO), a marine education program that can encourage students to develop a sense of stewardship toward the ocean. Its grassroots program to appreciate, protect, and use the ocean wisely has been recognized by the National Marine Educators Association (an NSTA Associated Group). The event is also endorsed by a panel of renowned ocean pioneers, including Tap Pryor, aquaculture pioneer; Scott Carpenter, astronaut/aquanaut; Sylvia Earle, marine biologist; and Eugenie Clark, zoologist and shark expert. NWO invites students to study the lives of ocean explorers such as these.
Here are some links to get you started:
Enchanted Learning has Ocean themed crafts
DLTK has Ocean Animals crafts
Make a textured starfish or sandpaper sea horse
Educational Videos on the Ocean and Marinelife are available from:
NOAA
Online Resources:
NOAA
The NOAA Ocean Exploration program strives to engage broad audiences to enhance America's environmental literacy through the excitement of ocean discovery. This Web site provides an innovative way for students of all ages to learn about the oceans by offering near real-time access to a series of multidisciplinary ocean explorations. It also provides compelling imagery, video, and topical essays related to the ocean. This particular section of the site offers formal education materials.

Ocean Sciences Teaching Videos

Florida Sea Grant Educational Materials
Order your National Week of the Ocean poster by sending a check payable to:
Week of the Ocean and mail to: National Week of the Ocean
P.O. Box 179, Fort Lauderdale, Florida 33302
for more information call:
Cynthia Hancock, Co-Founder and President * 954-462-5573
or e-mail
nwoto@att.net