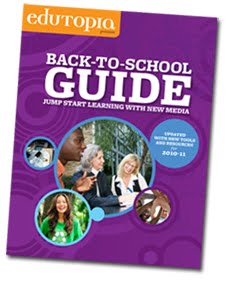 Edutopia is offering an updated guide of the best tools, tips, and resources to help you get the school year off to a great start!
Whether you're new to teaching or a classroom veteran, their resource-packed collection of 10 top new media tips promises to provide fresh ideas and easy-to-use tools to engage your students and make learning more collaborative.
Take advantage of the multi-media educational resources available to you by learning about new resources and ways you can incorporate them into your home or classroom.
To receive the guide, just sign up for their mailing list here. Signing up for the resource guide will automatically subscribe you to their email list, if you do not wish to receive future mailings from Edutopia, simply uncheck the box when requesting your FREE guide.