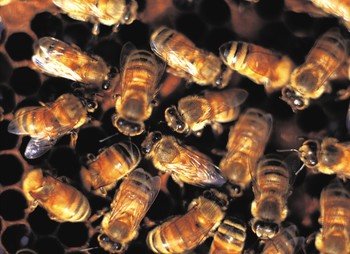 The latest buzz is that honeybees are dying at an alarming rate. Over the last three years, honeybees have been disappearing from their colonies in record numbers. Why should you care? Well, honey bees are responsible for pollinating about one-third of the foods we eat. Sure, bees make honey but they also play a critical role in agriculture that far exceeds their honey production. In a single day, a hive can pollinate four million flowers. So, without them our $15 billion dollars worth of fruit, nuts and vegetables are at risk too.
In a single day, a single hive can pollinate four million flowers, and make up to two pounds of honey.
Although researchers aren't one hundred percent sure what is causing our honey bees to disappear, one of the causes seems to be colony collapse disorder, researchers don't know exactly what causes CCD but they believe contributing factors may include: poor nutrition, chemicals, mites, and viruses.
Here's how you can help save the honeybees.
Eat Haagen-Daz flavored ice cream. Stop laughing, I'm serious. Haagen daz is donating some of the proceeds from their ice creams made with bee pollinated ingredients towards further bee research. Get the scoop on their help the honey bees website. I'm doing this as much as possible this summer. I'm a bee lover now!
Plant a bee friendly garden. Ideally you should plant a wide variety of plants in clusters so that bees can find them easily. Planting native species is very important. The bees in your area have grown accustomed to native plants. A simple Google search of "bee friendly plants" + your state will lead to a comprehensive online listing. For more information, visit the Xerces Society.
Participate in the Great Sunflower Project. All you need to do is plant Lemon Queen sunflowers (annual), record your bee sightings and turn in your reports to the Great Sunflower project.
Additional online resources:
Pollinator garden wheel
Enchanted learning honeybee printout
Honeybee houses coloring pages
Videos:
Life cycle of a honey bee
PBS Video Inside the hive
See what California researchers are doing to help ensure we always have honey bees.
Florida farmer discusses CCD