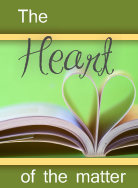 This weeks Heart of the Matter Meme is about Balancing your role as Mom and Teacher.
Although I may separate Mommy and Teacher on my blog—-I don't separate it in my home life with my children.
I think a mother's natural role is to teach or instruct her child. I have been teaching them knowingly and unknowingly since the moment they were placed into my arms.
Now that I'm also teaching: language arts, history, geography, mathematics, science, art, Spanish, Critical Thinking and Life Skills, only means that I am busier and have a messier desk—not that I have two roles to balance.
All I am, or hope to be, I owe to my angel mother.


Abraham Lincoln
I'm glad I don't feel a need to balance being Mommy and Teacher because I am already struggling with balancing:
Mommy and Wife
My Families interests/needs and my own personal interests/needs
Family and Friendships
I think we need to embrace our role as mothers and look (briefly) beyond the cooking, cleaning, nurturing, and disciplining and consider our opportunity to serve, not only as a teacher, but as a mentor to our children.
This is something all mothers have an opportunity (and a responsibility) to do, regardless of whether they choose to educate their children at home.
So, my challenge to you is to not balance being Mom and Teacher, but to embrace it.