Periodically it is suggested that homeschoolers:
Have a name for their homeschool
Have an ID card for their homeschool (parent/teacher, and student/child).
We chose to name our homeschool Passport Academy, due to our interest in traveling and sharing that with our children as part of their education. We have never had an ID card, other than the membership card we get from our local homeschool support group and our Barnes & Noble Educators Discount card, and frankly I've never seemed to have a need for one.
However, now that I'm working on a science co-op based on "The Young Naturalists Guide to Florida" and I am busily planning field trips, I am encountering a request for my ID to obtain (sometimes substantial) discounts. Well, what's a girl to do but get herself an ID card?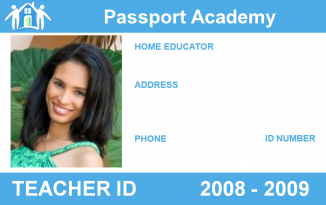 You can get yours FREE by joining the Homeschool Buyers Co-op. Use the wizard to create your ID and you can print it out online or order a special PVC ID card for $6.95. I chose to just print mine out on card stock and have it laminated. Obviously your card will have the information printed on it (the card here is just a sample).
The Homeschool Buyers Co-Op offers a free membership that entitles you to great discounts on educational products and services including Dell Computer's Educator Discount. On the website you will find regular exclusive member discounts that you can make at any time as well as limited offer Group Buys that are not to be missed. I have saved up to 60% by participating in a group buy. I am proud to say that I have been a member for almost 3 years. Each year the website and co-op offer even more wonderful resources (data base of free curriculum, scholarships etc.). Visit the Homeschool Buyers Co-Op website to learn more about the membership, because I'm sure if I tried to detail it, I would miss something.
If you haven't already done so, join the co-op, even if you are not sure if you will use the membership. By joining forces and increasing the membership you will help the co-op negotiate stronger discounts with bigger vendors. By joining together, we can consolidate our purchasing power and stretch our homeschooling dollars.