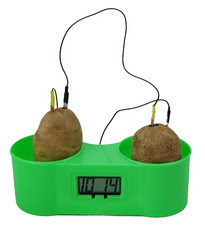 ****updated post****
We saw this Potato Clock kit in Home Science Tools Catalog and I couldn't resist trying it out. We plan to expand on this project in various ways, using a variety of vegetables, and apparently even a can of soda!
A video wasn't really necessary here, but I couldn't resist an opportunity to use my new Flip Video Camera. At least you can see how excited the kids were about doing this project. We are working on cooperation and including our little sister in our homeschool. So this project for us was less about science, and more about relationships and sharing an experience together. That said, I do think this is a good product to use in your homeschool if you supplement it and don't do the experiment just for the sake of "doing an experiment". If your family enjoys science projects and experiments try to use them in conjunction with a Science Notebook that focuses on the Scientific Method (observation, experimentation, and hypothesis) as this will help them develop a strong foundation in science, particularly in the early years. Of course, if you are working on sibling relationships, this obviously isn't a bad choice either.
*** My apologies for having uploaded the WRONG video before******
http://www.youtube.com/get_player