I think I'm in love with Mat and Sam…even if all they ever do is sit around.
This is the very first "book" that my boys have ever read on their own. I have never read this book to them, but they did read it to me about 1 hour before this video was shot. So, the following video captures their 2nd time reading this book—and the very first book they've ever read, independently.
"Bob Books were created by Bobby Lynn Maslen who taught kindergarten for 13 years. She developed the books to guide children's earliest steps in reading using a graduated process". You can learn more about Bob Books and products at their website.
I'm using a very eclectic approach to teaching my children to read. If you look at our curriculum choices for 2008-2009 school year, you will see that I have just about every phonics and reading program known to man, so we are not using Bob Books exclusively. I do not, however, think that you need " every product known to man" to teach your children to read. I was just very nervous about my own ability to teach my children to read, and I attempted to overcompensate by buying multiple programs. I should have known better, our Lord is a masterful God who doesn't call the equipped, but equips those that he calls. I am so very humbled to be the mother of these 4 children whom I will have an opportunity to "train up in the way they should go". I cannot imagine missing the opportunity to see the very moment my child learned to read—-and being there to see that incredible smile that followed! You know, I think this makes up for the time they took their first steps with Dad while I was making lunch!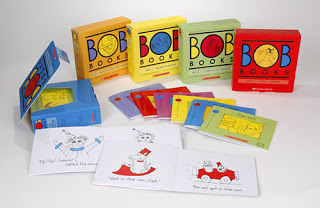 Needless to say, today is a very happy day for our family, and a very emotional one for Mom.
Just think, we're only 3 days into our new school year!
This is one of the reasons I choose to homeschool my children.
This is one of the good days.
One of the blessings.
One of the GIFTS.
I will cherish this day, always.
http://www.youtube.com/get_playerhttp://www.youtube.com/get_player