As we continue to work on our United States geography skills, (with mom learning right alongside the kids, shhhhh, don't tell them), I brought out a new resource purchased at last year's state homeschool convention, a magnetic USA map. Today I had the boys show me the location of every state on the map that they could identify on their own. After correctly identifying them, I gave them the state to add to the board. By doing this I could ensure that they weren't just matching shapes. Since we haven't been working on our US geography for very long, I was pleasantly surprised with the number of states they could identify—FIFTEEN!
You can see them on the map above but they are:
Florida ("where we live Mommy!")
Pennsylvania ("that's where we used to live")
Texas ("Texas!"—they seem to have fond memories here)
Georgia (it's above Florida")
Alabama ("Mr. Richard and Miss Darlene live there sometimes")
Minnesota ("our babysitter lives there")
Alaska
California
Oregon (It's north of California. Miss Katie said.")
Utah
Hawaii
North Carolina
South Carolina (it's by Georgia)
Washington
Michigan ("That's where Chelsea lives")
I really liked this map because each state is presented individually which helps the child learn to identify the state based upon it's actual shape—and then relation to others on the map. We will continue to add the states to this map as they are committed to memory.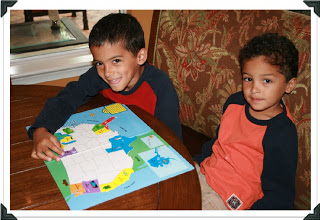 We are still working on our state quarters collection and recently added New Mexico, thanks to a former babysitter and first grade teacher. Thank-you so much!
We also miss our Daddy and like to look at the map and see where he is and count the days until he comes back home. Daddy, if you are reading this, please ask everyone to look at their quarters during the breakout sessions or receptions!
We continue to be on the hunt for:
Idaho
Delaware x2
Iowa x2
Illinois
Ohio
Pennsylvania x2
Indiana
Alabama
Resources we enjoy using for geography:
Imaginetics USA Magnetic Map
Melissa & Doug Wooden USA speaking puzzle
54-piece foam map puzzle
State quarters Collectors Map
USA talking puzzle
Leapfrog Explorer smart Globe
Geosafari Talking Globe