The kids recently received this postcard from their big sister R. from Rwanda. Getting mail is always exciting but it's even more exciting when it's tied into our learning.
A previous gift from their older sister included a beautiful map of the world with the promise that she would send post cards from each place she traveled and we would look for it on the map.
The postcard read: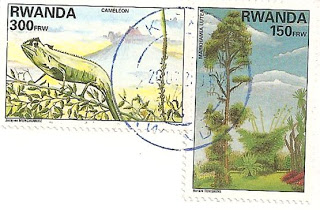 Hi there! Greetings from Rwanda. Amakuru? That is how you say, "How are you" in the local language here. Rwanda is a country in Africa–maybe you can find it on the big map I gave you? Sometimes people call Rwanda the land of one thousand hills" because it is so beautiful and very hilly! Did you know that plastic bags are illegal here? There is no trash on the ground anywhere!
Love you all, R

The postcard is now in our geography notebook and we are anxiously awaiting another post card with beautiful stamps, a country to locate, and interesting facts.