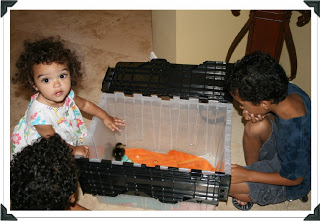 After we rescued our little duckling I was careful not to let the children hold the duckling because I wasn't sure if that would affect its ability to be released into the wild again. However, when we arrived at the animal sanctuary, the receptionist immediately picked up the duckling and carried it back to the veterinarian in her hand, without using a towel as I had done.

After seeing that, I asked if the children would be able to hold the duckling and say good-bye. Which they were. We are still sad that we weren't able to rescue the other two ducklings, however at least we know this one is safe and sound!
Maybe one day we can try hatching and raising ducklings of our own, but until then, we have this lovely memory and the warm feeling that comes from doing something good.