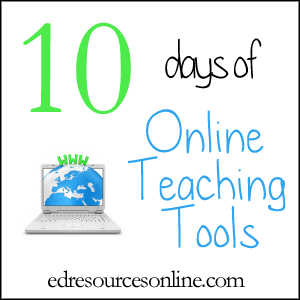 Over the next 10 days (excluding weekends) 28 bloggers will join together to create almost 300 posts on various topics meant to encourage, educate and inspire you with your children, within your home, in your homeschool, cooking etc!
Please join me April 16-20 and April 23-27th for a series on Online Teaching Tools.
Whether you are feeling stumped for ideas or overwhelmed by the online possibilities I have solutions, tips and resources get you inspired or back on track. This series is for parents, home educators, tutors and traditional classroom teachers who want to explore some of the best and effective online teaching tools.
The 10 Days Series is organized by
iHomeschool Network
, a collaboration of outstanding homeschool bloggers who connect with each other and with family-friendly companies in mutually beneficial projects. Visit us on
Facebook
,
Pinterest
, and
Twitter
. And of course, click the image below to visit all the 10 Days posts from these homeschool moms of the iHomeschool Network.
You'll be blessed with tips on how to handle bad days, cultivating curiosity, teaching with Legos, and much much more!