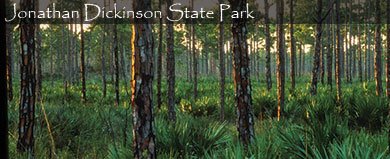 This 11,500-acre park is named for Jonathan Dickinson, a Quaker merchant whose vessel shipwrecked nearby in 1696. Jonathan Dickinson State Park is located just south of Stuart, Florida. The park teems with wildlife from 13 natural communities, including sand pine scrub, pine flatwoods, mangroves, and river swamps. The Loxahatchee River, Florida's first federally designated Wild and Scenic River, runs through the park. Ranger-guided tours of the 1930s pioneer homestead of Trapper Nelson are available year-round. Visitors to the park can enjoy paved and off-road biking, equestrian, and hiking trails, Boating, canoeing, kayaking, and fishing.
A variety of wildlife can be found in the park including: deer, raccoons, bobcats, foxes, opossums, alligators, otters and over 140 species of birds.
The nature and history of the park comes to life through exhibits and displays in the Elsa Kimbell Environmental Education and Research Center. Programs for the kids, or for the whole family, are also offered here. The park also offers two full-facility campgrounds and a youth/group primitive campground. Visitors can arrange boat tours of the river and rent canoes, kayaks, and motorboats by calling (561) 746-1466. Located 12 miles south of Stuart on U.S. 1.
Online Resources:
Download park brochure or learn about available Ranger Programs.
Field Trip Tips:
Plan on spending the day at the park. Arrive in the morning and take the river tour, stopping off at Trapper Nelson's, take a picnic lunch break in the pavilions near the playground before going to the nature center where you can schedule labs in advance. The water is higher in the summer but it makes for a cooler trip if you go in the winter or spring. There is really no bad time to visit this incredible park.
Have you visited Jonathan Dickinson State Park? Share your field trip experiences in the comments section or by linking your blog post below.