Summer is usually a time for planning. It is a time to reflect on what worked and what didn't work in our most recent homeschooling efforts. It is also a time to fine tune organizational systems and consider curriculum & extra curricular activities.
In our state, our annual homeschool convention is in May, which I love. That means that right when you cross the finish line, often exhausted, you get an opportunity to go to convention (while you still have the school year fresh in your mind) and refuel. I always feel encouraged, inspired and even more committed to our homeschooling efforts following convention.
This year when I left convention I had a list of things I wanted to change or add to our homeschool. One of the things I wanted to implement was starting a homeschooling co-op. I think its important that my children are able to spend time with other homeschooled children, regularly. While we participate in our local support group's park day, camps, extra curricular activities and a PE co-op I wanted them to have a chance to develop deeper friendships with children they see on a more regular basis. I think we achieve this somewhat with their weekly PE co-op, but I didn't think once a week was enough. The group I've helped start will meet on Friday's for educational workshops, classes, and field trips. Additionally, the mothers will have: Mom's night out, homeschool book club, and a monthly meeting which will center around a homeschooling topic for discussion. I'm very excited that our group now has 12 members and we're offering 4 different classes, including a Lego League! I hope that more mothers will volunteer to teach or co-teach other co-op classes this coming year.
With 4 children in our household and 3 in our homeschool, my teaching schedule and routine will really be put to the test this year! Assembling your schedule can be frustrating at times as you try to fit everything into the puzzle (time slots) only to discover that you have to move the pieces around and start all over again! But I think I've finally found a schedule that I think will not only work for us, but will be a little more flexible too. I've found that teaching all three of my children together, as much as possible, makes our day run more smoothly. My younger daughter enjoys being part of the group and I'm not as stressed. Combining some lessons doesn't mean that I expect my daughter to do everything her older brothers do, but she is included in the bulk of the lesson, even if I give her a sheet to color instead of label or she works on playdough letters instead of copywork.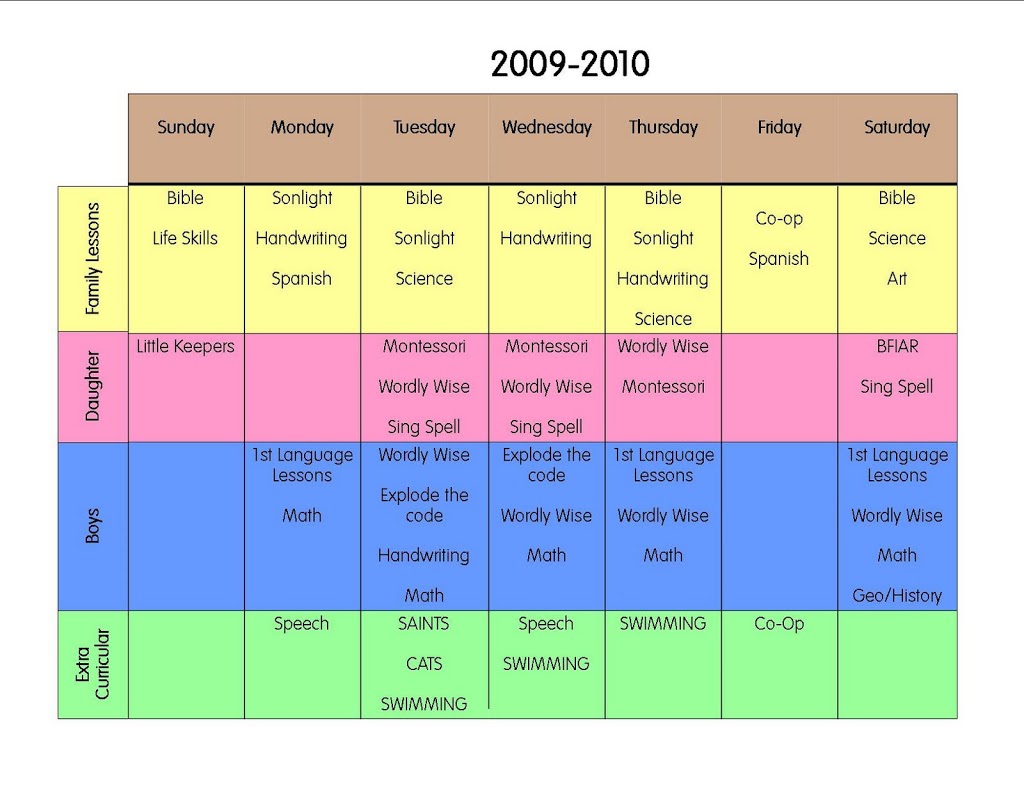 One of the advantages of homeschooling is tailoring your homeschool to your family's schedule, instead of the other way around. The schedule above allows me to have my "weekend" on Sunday and Friday. It works best for me, although we do some study each day. My children don't know any different and never complain about it. Truth be told, they love school and it was because of their asking for school each day that this schedule evolved. The schedule above reflects an average of, approximately 2 hours of instruction per day for the boys (not including extra curricular activities, field trips or co-op) and 1 hour per day for our preschool age daughter. One thing that most homeschoolers do not count in their day is recess, transitioning from one activity to another, meals, administrative tasks, drive time etc. It is another reason why homeschooling days are shorter than traditional school days.
In my next post I will share some of the tools & resources I am using to organize our homeschool as well as what I purchased at our homeschool convention.