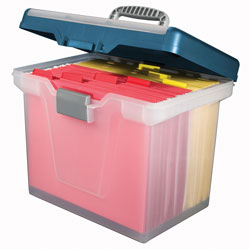 We've all been there. You are surfing the Internet and you find a great worksheet.
So, you print it out.
You are reading through your teacher resource books and you find a great reproducible.
So, you print it out.
Pretty soon you have stacks of printed worksheets all of your desk, kitchen, and home! If that wasn't bad enough, the worst part is that you end up not using half of the worksheets you've printed out because you simply cannot locate them, or you forgot about them.
Finally I figured out a surprisingly simple solution that works no matter how much or how little school room space you have.
Here's my simple worksheet organizational plan:
Step one:
I take all of my printed worksheets and put them in individual manila file folders.
Step two:
Then, I label them in a way that makes sense to me. Such as: "coin worksheets", "Matching upper/lowercase letters"
Step three:
Finally, I use File Folder Dividers (plastic file dividers that are made to hang inside file tubs like the one shown above) to separate the sections in my tote. I use Preschool, Language Arts, Science and Math as those seem to be the ones I use the most in my worksheets.
Materials:
File & Folder Dividers by Innovative Storage Designs
Mobile File Box
Consider using this system for organizing your lapbooks and file folder games.