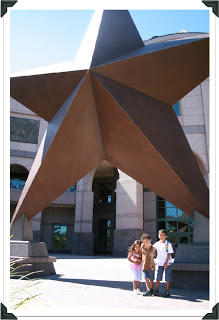 This was a nice museum and the kids did enjoy looking at some of the artifacts but they were actually mostly interested in the mini films on Texas state history—-who knew?! We really learned a lot. They were very well done.
On the 3rd floor there is also a great interactive mini movie that lets the audience vote (by pushing buttons by their seat) on what city in Texas they would like to learn about. This was especially entertaining for the children. They also have IMAX films, but we didn't see any of those.
No photography is allowed inside the museum so I was only able to take the picture below before I knew the rule (and the security guard came over and said, "No more pictures, okay?")
We went in the afternoon and had the majority of the place to ourselves which was great! The exhibits are on 3 floors. We spent a little over an hour at the museum. I would allow for 2-2 1/2 hours if you were going to watch all of the mini films. I believe there are 5.
Download the Visitors Guide for more info.