(Do you see the dinosaur snarls above?)
While we were in Austin, Zilker Gardens had a special dinosaur exhibit that we couldn't pass up since the kids love dinosaurs.

The gardens were beautiful but the dinosaurs weren't as big a hit with the kids as I had originally thought. Luckily there were other things to do to keep their attention such as: making dinosaur masks and posing for pictures. It was a beautiful day and we enjoyed getting a little exercise before we headed to the airport for our flight home.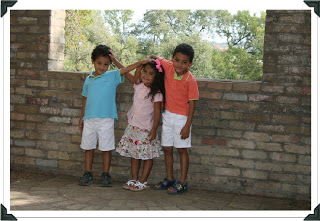 We had a wonderful trip to Austin, Texas and most importantly, we learned a lot as a family.