LobsterNetwork is free new website that just may be a teacher or homeschooling co-ops dream come true. Why? Because by using LobsterNetwork you can keep track of the gazillion educational resources you've collected and, if you choose, offer them for sale, trade, or loan within your local area, approved friends list, chosen community or private community (homeschool co-ops, school, school district, club, classroom). It is completely up to you. Plus, Lobster Network tracks everything at no charge! That's right, there are no fees involved with using LobsterNetwork.
Lobster Network stands for:

How it works:
Register for a free account here.
Invite your friends or set up a private community. You may also want to search for existing communities if you wish.
Set up your inventory however you choose.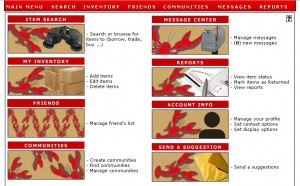 For more info:
Download PDF guide
Watch Video Tutorials
Can you think of other uses for LobsterNetwork?